Female Fronted Rock Night
Wednesday 11 June 2014 10:50
Those of you following us on Facebook have probably read it already: out of more than 30 applications, we are among the 9 bands that have been selected to take part in the Poule Parties of the Female Fronted Rock Night! The FFRN is a cool initiative of three bands aiming to bring professional female fronted bands together and firmly put them on the map! This way, it will be easier to combine bands and offer them to bookers as a package.
The Poule Parties are not a competition, but more like a showcase. However, a lot depends on the outcome of these two evenings: the board of the FFRN will personally pick a number of these 9 bands to join them on future FFRN tours. So we're still a little nervous, but we look forward to it a lot!

On Saturday June 14th the first of the two Poule Parties will take place at the Paardcafe, and we'll be there, together with Coral Springs, Kissing Jane, Tarzan's My Daddy and All Comes Down! See you this Saturday?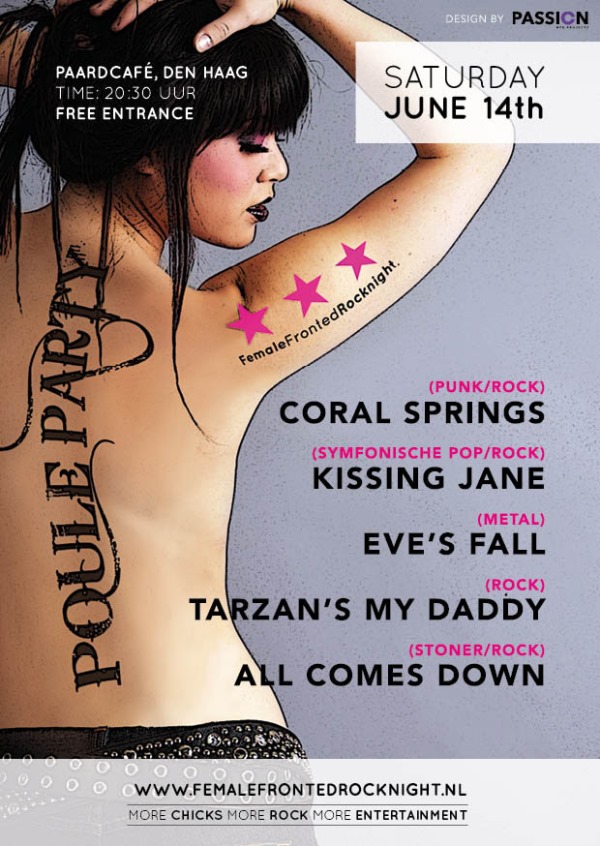 ---

No confirmed upcoming gigs.




Website made by Bart Limburg, Nathalie van Vugt and Johan van Heusden.