Wednesday 12 February 2014 11:16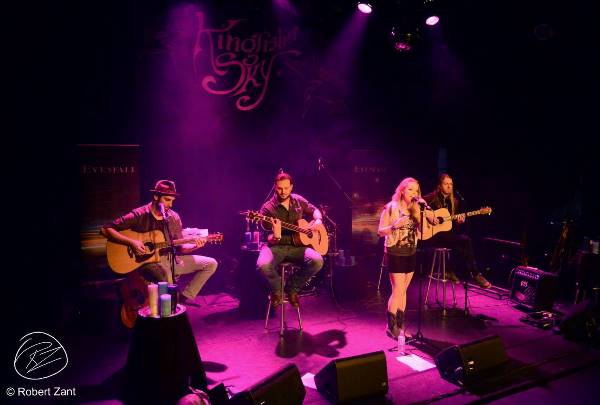 Saturday February 8th was a date we won't lightly forget. For the very first time, we performed a couple of our songs acoustically that night! We were invited for this occasion by Kingfisher Sky, who were looking for a support act to join them on a very special acoustic show in the Veur Theater in Leidschendam, the Netherlands.

We always feel a healthy dose of nerves and excitement before a live show, but we've never experienced anything like we did on February 8th. This was almost genuine stage fright! No keys, no backing track, no distortion on the guitars to cover our asses, but everything pure and honest so even the slightest mistake would be audible...

For this occasion we had rearranged and slightly rewritten "Enough!", "No Compassion", "A Touch of Fate" and "The Spiral". The result was a very special and intimate show, and the response from the audience was great! And yes, the whole thing was recorded!





We would like to thank Kingfisher Sky a LOT for this unique opportunity and the great evening we shared. And a massive thanks to everyone who attended for the amazing responses!

See you soon :-)
---
---
Tuesday 31 December 2013 19:51
As is almost mandatory in this time of year, we too would like to take a moment to look back at the year that has passed. And we can look back happily and satisfied at an amazing year with some great new experiences!

To begin with, we released our very first single Enough! and the video that came with it that has reached more than 7000 views on Youtube by now! And in April, we released our debut album From Here On that we're still very proud of and received some great reviews!

And then there was Band Boost. In the Metal preliminaries, we couldn't beat My Worst Case Scenario but thanks to you guys we did win the audience award and made it to the semifinals, which we won! This way we secured a spot in the finals, which we won again! We were rewarded with an awesome prize package, but especially some cool experiences. A gig at the Wantijpop festival, but most of all a live performance in the 3FM Freaknacht on Dutch national radio and television, at the invitation of jury member and 3FM DJ Herman Hofman!



Besides all that, there were of course numerous cool gigs with awesome bands, where we met a lot of you and also made a lot of new fans!

All in all it's been an amazing year, and we owe a lot to you guys, which we're very grateful for!

2014
We hope 2014 will be equally cool! The first couple of months of our gig calendar are already filling up nicely, and there's more coming up! Of course we'll keep you posted on our website and social media.

Those of you who follow us on Facebook have probably already heard we're working on a new music video! The past couple of weekends, we've been filming a new video for No Compassion. Bart has already begun editing the images. The first raw footage looks cool already, we can't wait to show you the finished results!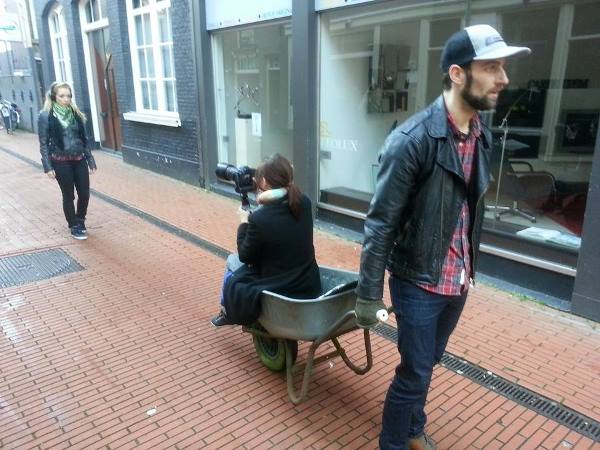 We wish all of you a great new year's eve, and a fantastic 2014 in good health, and we hope to see many of you again on January 10th at Studio Gonz with our friends of Ex Libris, who'll be performing their new album live for the very first time! See you then!

Liesbeth, Bart, Johan, Jeroen and Josha
---
---
Monday 18 November 2013 07:25
Last Friday we performed with new Dutch symphonic metal band Beyond God at Podium 10 in Bladel. It was their first live tryout, and it all sounded great and rock solid! We had a great evening. We even learned our songs turn out to have different meanings we weren't aware of:
"This next song is about my ex: Long Forgotten" *
"This next song is about anti-conception: The Spiral!" *
* ©Josha ;-)

Ton Dekkers was there and shot this cool picture of us rocking out on stage: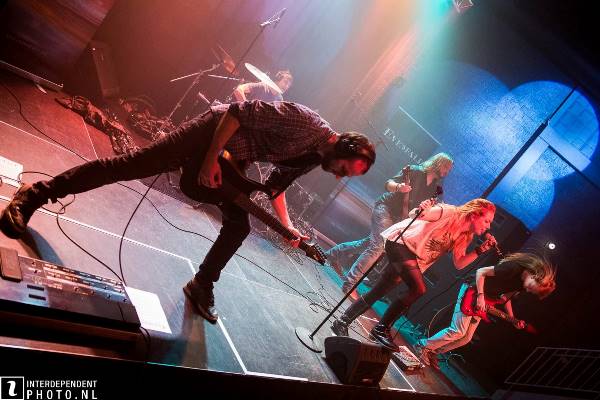 New gigs
It's been a bit quiet lately, but we haven't been slacking: slowly our calendar is filling up with gigs. We're working on a lot more, but for now here's two cool ones coming up:

On Saturday December 14th we'll be playing at Musicon in The Hague with My Own Army.

On Friday December 27th you can rock out all annoyances and frustrations after two long Christmas days full of family obligations, furniture malls and eating too much at the album presentation of old school metalheads Jackal at the P60 in Amstelveen! We'll be there as support act, together with Mother of Sin and Vexation.

There's more coming up, including something very special, but more on that subject later. See you at Musicon and P60! :-)
---
---

No confirmed upcoming gigs.




Website made by Bart Limburg, Nathalie van Vugt and Johan van Heusden.