Summer break over again!
Wednesday 17 September 2014 17:06
Our (brief) summer break is over again, everyone has returned home from their holidays, and almost immediately it's back down to business again: in the past couple of weeks we've played a gig at least every week! It's been an awesome month for us with some great new experiences, and we've enjoyed it to the fullest!

First of all we played our very first gig outside of the Netherlands: on August 23rd we headed off to de Ginsert in Genk, Belgium, and it's been loads of fun.

One week later we competed in the finals of the Peter Tetteroo Bokaal (cup) on the Westerpop festival in our hometown Delft, on Friday August 29th, in front of at least 4000 people! Andere Koek! won, but we didn't really mind: we were having a blast! There was a small moshpit in the front rows, and we even saw a (miniature) wall of death! \m/
Westerpop faces tough times with a lot of uncertainty due to redevelopment of the site where the festival has been held for most of the past 25 years. So it was an even greater honour for us to have been a part of this incredible 25th edition, the last Westerpop at this awesome site!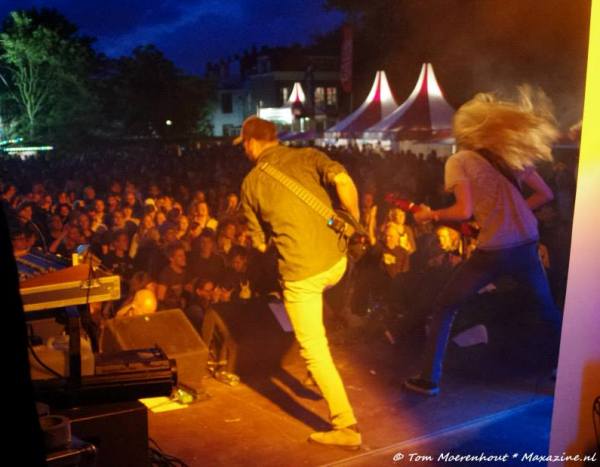 Photo: Tom Moerenhout - Maxazine

A week later, we played in a far more intimate setting: in the cozy (and crowded) Paardcafé in The Hague, for Club 3voor12 The Hague, a regularly held showcase for local talents.

This wasn't all: expect a report and some great pics soon of our two support shows for Stream of Passion and My Propane at P60 and De Pul on September 12th and 13th. We're all still recovering from an incredible weekend!
---

No confirmed upcoming gigs.




Website made by Bart Limburg, Nathalie van Vugt and Johan van Heusden.