Monday 14 December 2015 18:39
Dear friends and fans,

In 2011 I started Eve's Fall with Johan, Bart, Jeroen and Josha and what a blast has it been! We made an album, won BandBoost 2013, played live on 3FM national radio, played at awesome festivals such as Wantijpop and Westerpop, and last but not least played lots of cool shows with awesome bands like Stream of Passion, Autumn, Kingfisher Sky, My Propane, Sin7sins and Ancient Bards. In the meantime there have also been some big changes in my private life: family expansion, a divorce, and as many of you may know I'm expecting my 4th child at the moment. Therefore it has become quite a task to combine my busy family life and my band. But Eve's Fall has always been my "lovechild" too, so it was quite a tough call deciding whether or not I should quit doing what I love so much.

But I feel I'm not doing my band and you guys justice if I can't give the full 100%. Therefore it is with deep regret that I announce today Eve's Fall will be going on without me. I hope with all my heart they will soon find an awesome singer to replace me, so they can continue doing what they do so well at full force.

I wish to thank all of Eve's Fall and everyone who has been important to me and the band throughout these years (Dave, Djuri, Nathalie, Manon, family and friends), photographers who shot great pics of me on stage, all the venues we've played, sound and light techs, and all our followers, fans and friends for all the fantastic times I shared with you guys and this band. I won't lightly forget any of it!

Love,

Liesbeth Cordia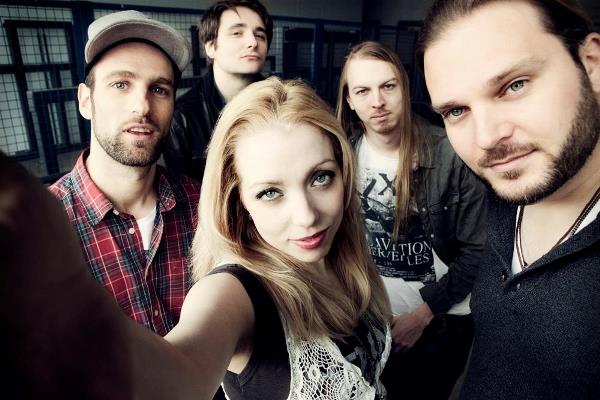 ---
---
Saturday 11 April 2015 07:31
It's been awfully quiet on here for way too long. We think an apology is due here! Thankfully we've been very busy in the meantime: awesome shows with Stream of Passion, My Propane, Kingfisher Sky, The Saturnine, Ancient Bards and Sin7sins... We can look back at a year full of great shows with some amazing bands!

Behind the scenes, a lot has been going on as well. We've been very busy writing new songs! We've spent whole evenings and days locked up in our rehearsal room, at Bart's place, and even an entire weekend at Liesbeth's place!

It feels great to be working creatively on something entirely new, but after FIVE (!!!) months all of us are really starting to miss being on stage and rocking out with you guys so it's time for a break. Therefore we're very pleased to finally be able to announce some upcoming dates!

On Thursday May 7th we'll be playing at Gebr de Nobel in Leiden with Mudguard and The Saturnine, who will be playing their farewell gig that night. On Friday May 22nd we'll be playing with Kingfisher Sky and Autumn at the P3 in Purmerend. And on June 12th we'll be playing at a Female Fronted Rocknight with Left Alive (first ever tryout gig) and Coral Springs at the HPC in The Hague!

Want to get in for free on May 7th?
The fine gentlemen of Mudguard are giving away four tickets on their Facebook-page! Check their page and follow the four easy steps (in Dutch). They'll announce the winners on their page on May 1st!
---
---
Wednesday 17 September 2014 17:06
Our (brief) summer break is over again, everyone has returned home from their holidays, and almost immediately it's back down to business again: in the past couple of weeks we've played a gig at least every week! It's been an awesome month for us with some great new experiences, and we've enjoyed it to the fullest!

First of all we played our very first gig outside of the Netherlands: on August 23rd we headed off to de Ginsert in Genk, Belgium, and it's been loads of fun.

One week later we competed in the finals of the Peter Tetteroo Bokaal (cup) on the Westerpop festival in our hometown Delft, on Friday August 29th, in front of at least 4000 people! Andere Koek! won, but we didn't really mind: we were having a blast! There was a small moshpit in the front rows, and we even saw a (miniature) wall of death! \m/
Westerpop faces tough times with a lot of uncertainty due to redevelopment of the site where the festival has been held for most of the past 25 years. So it was an even greater honour for us to have been a part of this incredible 25th edition, the last Westerpop at this awesome site!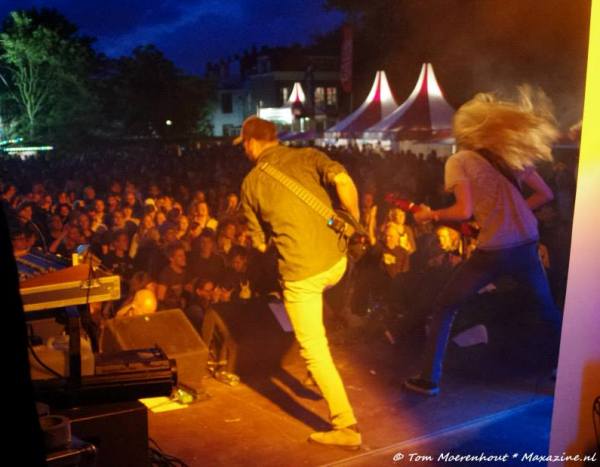 Photo: Tom Moerenhout - Maxazine

A week later, we played in a far more intimate setting: in the cozy (and crowded) Paardcafé in The Hague, for Club 3voor12 The Hague, a regularly held showcase for local talents.

This wasn't all: expect a report and some great pics soon of our two support shows for Stream of Passion and My Propane at P60 and De Pul on September 12th and 13th. We're all still recovering from an incredible weekend!
---
---

No confirmed upcoming gigs.




Website made by Bart Limburg, Nathalie van Vugt and Johan van Heusden.